Resources
Environmental benefits of passenger rail
Rail Passengers Association on the environmental benefits of passenger rail: It takes 16 lanes of highway to carry as many people in an hour as just a single two-track railroad.  A standard Amtrak locomotive is 47% more efficient per passenger-mail (moving one passenger one mile) than cars, and 33% more efficient than domestic airlines.
Bombardier (see below) on the environmental advantage of passenger rail.
The Points Guy (TPG) on the environmental advantage of passenger rail: According to the IEA (International Energy Agency, trains make up 8% of the world's motor-driven passenger movements yet use only 2% of the world's transportation-energy demand.
Economic benefits of passenger rail
Rail Passengers Association on the economic benefits of passenger rail: 20,000 new jobs are created for every $1 billion invested in rail.  Passenger rail spurs economic growth around train stations (transit-oriented development).  Passenger rail is a good way to reduce congestion, which cost the American commuter an average of 38 hours per year.
Railway Supply Institute on the impact of rail supply industry on the Pennsylvania economy
Rail Technology & Industry
The U.S. Rail Supplier Mapping Project of the Railway Supply Institute provides a map of headquarters and facilities of U.S. rail suppliers.  If you open the map, you can move to western Pennsylvania, and then enlarge it.  Then you will find the locations of the rail supply industries in that area.  When you click on a button, you will get the basic information about that particular company, including the URL of its website.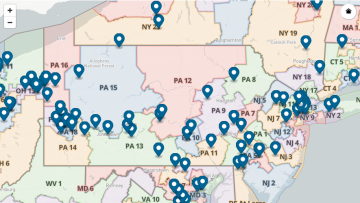 This cutaway drawing of a passenger rail car shows in which states each of the eighteen components of the car are manufactured.  Pennsylvania is tied with New York State for first place, with fifteen of these eighteen components being made within its borders.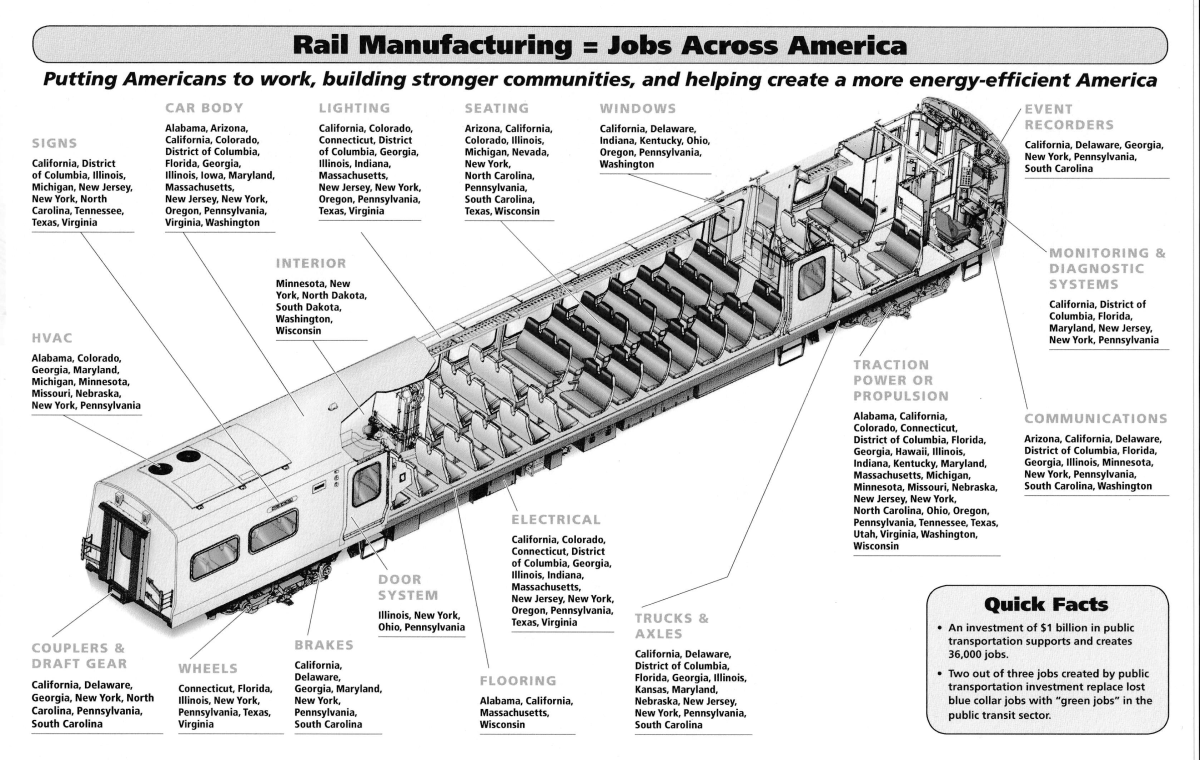 Wabtec, headquartered in Pittsburgh, PA, began in 1869 and the Westinghouse Air Brake Company.  In 2019 it merged with GE Transportation, one of the premier manufacturers of locomotives in the world.   In 2021 Wabtec unveiled the world's first battery-electric freight locomotive and is developing an emission-free locomotive powered by hydrogen fuel cells.
Bombardier, the world's largest manufacturer of rail equipment, was acquired by Alstom in 2021.  It produced Amtrak's Acela trains, used on the Northeast Corridor.  Alstom's plant in Hornell, NY, located a few miles from the border of northwest Pennsylvania, will produce Avelia Liberty trainsets for the NEC.  Bombardier has an office in downtown Pittsburgh and a plant in West Mifflin.
Siemens Mobility, a German-based company with a plant in Sacramento, CA, has $3.4 billion in contracts in the United States to design and manufacture 73 multi-powered trains for Amtrak, with deliveries scheduled to begin in 2024.  These will be used on Northeast Corridor and state-supported routes.
Hitachi, based in Japan, is a major manufacturer of rail rolling stock
Passenger Rail Advocacy Groups
Delaware Valley Association of Rail Passengers
Empire State Passengers Association
New Jersey Association of Railroad Passengers
Scranton Rail Restoration Coalition
Virginia Association of Railway Patrons